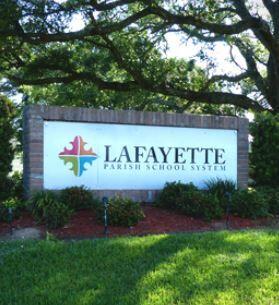 The Lafayette Parish School System and Lafayette Parish Sheriff's Office announced a partnership Thursday to bring real-time monitoring of LPSS school campuses by law enforcement. The announcement comes two days after a gunman murdered 19 students and two teachers at an elementary school in Uvalde, Texas.
The agreement between the school system and sheriff's office calls for LPSS phone lines to be linked to the parish's 911 emergency call center to alert law enforcement of any possible dangers on school campuses, potentially allowing for quicker response time by police.
"With this monitoring system in place, first responders will be able to assist with a myriad of potential situations that can occur on school campuses, which can greatly impact outcomes. Every second counts when responding to a situation. This partnership strengthens our commitment to student and staff safety, and I continue to be grateful that law enforcement agencies work closely with us to add additional layers of safety and crisis response measures to keep our schools safe," Superintendent Irma Trosclair says in a release announcing the partnership.
Lafayette Parish Sheriff Mark Garber adds in the release, "As technology advances, the LPSO continues to lead the way and utilize the latest in investigative techniques and software. By doing so, we have a distinct advantage in quickly detecting and reacting to criminal activity. These advantages have proven to be a direct and tangible benefit to our first responders as they bravely serve and protect the most valuable members of our community—our children."