LAFAYETTE, La. (KADN)- Employees at the Starbucks located at 4300 Ambassador Caffery have filed a petition to unionize, joining over 200 other locations across the country to do so.  
Six employees sent a letter over to the coffee giant's CEO, Howard Schultz, notifying him of their intent to unionize.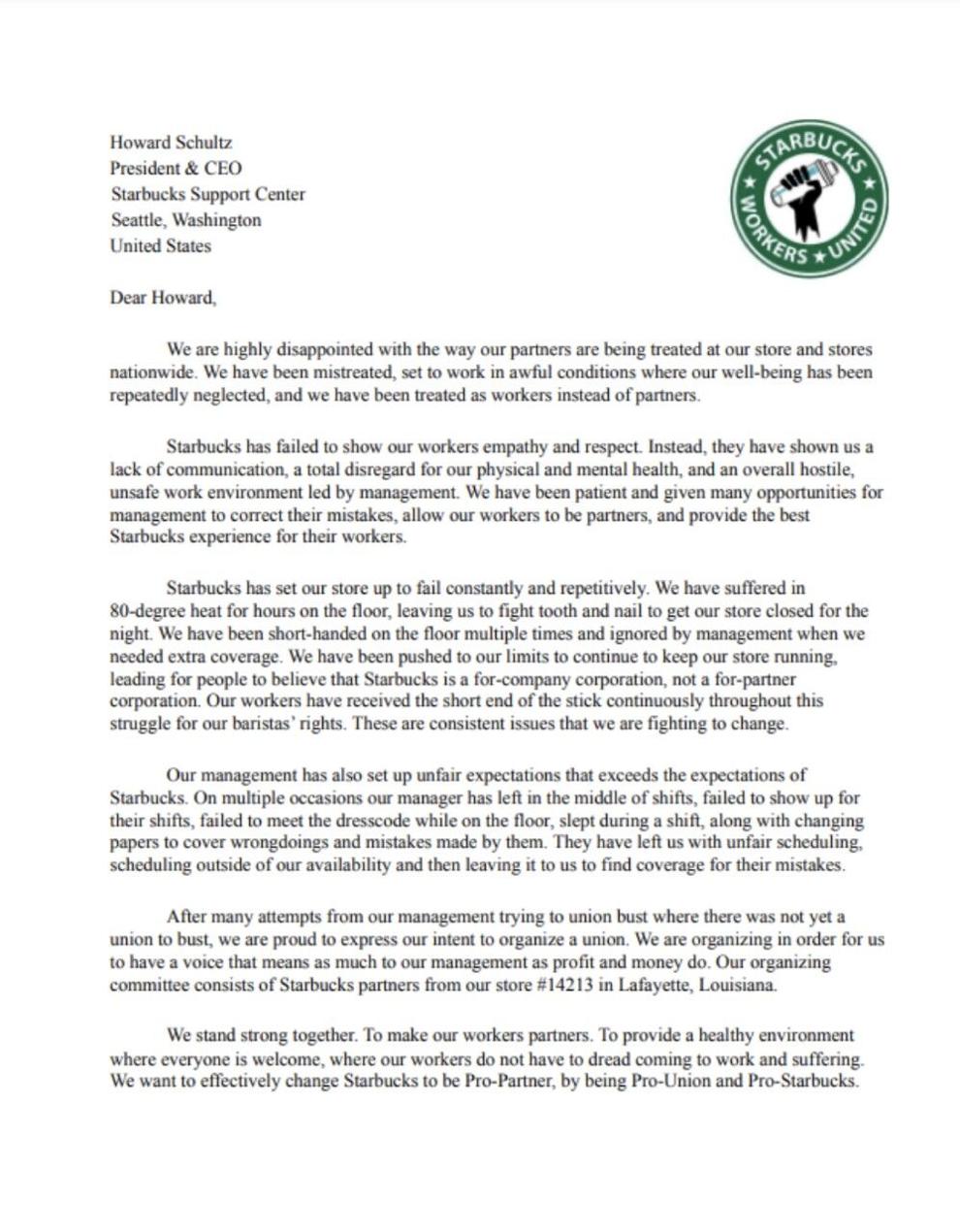 "The minute we had to work in 80-degree heat and our only solution was to get a box fan instead of closing the store down because our A/C broke. That was our starting point for wanting to unionize," Roman Vidrine, one of the six employees that sent the letter, said.  
Unionizing for Vidrine and his coworkers is their "last resort". 
"We're not doing this be trendsetters, we didn't really want to do this at all, but we just felt like this was our only option," Vidrine explained.  
In the letter, the employees blame "poor management", being "short-staffed" and "pushed to their limits" as reasons to form a union.  
"We feel more like workers and not partners. We express how we felt like our store sets us up to fail constantly. And we express things that management has done that isn't Starbucks policy that they broke," Vidrine said.  
The group first filed a petition to unionize with the National Labor Relations Board (NLRB) with signatures from all of their location's baristas and shift managers.  
An mail-in election is scheduled to be held by the BLRB and if approved, the store will officially be unionized.  
"We love Starbucks. We love the message that it's trying to put out there and all we want is for everyone to have a voice," he said.  
If the store does become unionized, a committee will be formed to negotiate changes with management. Those changed will be stated in writing and sent over the Starbuck's CEO for approval. 
The Lafayette Starbucks Employees could become the second group to unionize in the state, following a location in New Orleans.